"Chill Out" every thursday in Brussels – @djoneted @bebaonetedcrew @rudychester @MrMbile
|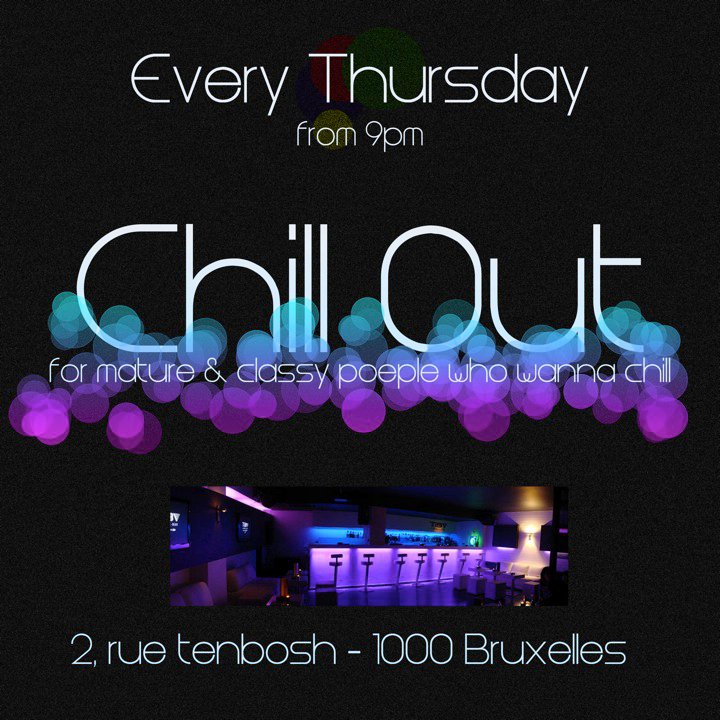 Pour ceux qui ne connaissent toujours pas le concept "CHILL OUT", le Oneted Crew cherche pour vous les bars lounges les plus classes de la capitale et vous y invite tous les jeudis de 21h à 03h pour boire un verre, écouter de la musique ou danser sur des sons R&B, Hip-Hop, Electro & house.
Pour la réouverture des "CHILL OUT" nous prenons possession du TIBV LOUNGE BAR (avenue louise), un bar très varié avec de nombreux cocktails, plus de 20 sortes de Vodka et plus de 15 sortes de whisky.
EN PLUS POUR VOUS, MESDAMES, CHAQUE JEUDI ET CECI JUSQU'A MINUIT, RECEVEZ UNE CONSOMATION GRATUITE POUR CHAQUE ALCOOL COMMANDE.
L'entrée est gratuite pour tous et bien évidemment, messieurs, la chemise est de rigueur!
Intéressé(e)s? "Chill Out" @ TIBV LOUNGE BAR: 2, rue Tenbosch – 1000 Bruxelles (proximité avenue louise)
———————————
For those who still don't know the "Chill Out" Concept, the Oneted Crew find the best and classy bars and lounges of the city and invite you every thursday from 9Pm to 3am have a drink, listen to music or dance on some R&B,Hip-Hop,Electro and House music.
For the reopening of the Chill Out , we are taking control of the TIBV Lounge Bar (Avenue Louise),a various bar with severals cocktails, more than 20 differents Vodka and 15 Whisky.
AND ESPECIALY FOR YOU LADIES, EVERY THURSDAY UNTIL NOON , YOU GET A FREE DRINK IF YOU BUY AN ALCOHOOL.
Free entry for everybody and of course gentlemen , you need to have a shirt!
Interested in ? "Chill out " @ TIBV LOUNGE BAR: 2, Tenbosch street – 1000 Brussels (near avenue louise)
more info? www.onetedcrew.com/event